Techniquest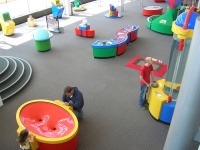 Techniquest © Ben Bore (Rhys)
This fascinating hands-on science museum is a must for those who are young at heart, perpetually intrigued and amazed by the power of science. Techniquest was voted 'Europe's best science centre' in an industry survey, and it continues to thrill all those who visit with its puzzles, gadgets and all the structures on display. The Science Theatre and Planetarium are popular stops for most who come to Techniquest for the day, while younger visitors will love the children's educational programs, laboratories and workshops on offer. Everything at Techniquest is hands-on and interactive, providing hours of entertainment and fascination for kids of all ages. Although adults are unlikely to visit this family-orientated attraction without kids, they will find plenty to amuse them and may even learn a thing or two while the children play and investigate. In fact, the museum hosts occasional adults-only events at night which are wonderful fun. There is a pleasant little cafe on the premises where parents can take a break while the kids experiment. The Techniquest shop offers a range of quirky, fun and educational toys and science kits which make wonderful gifts - a visit to the shop is a must when visiting the museum.
Address: Stuart Street, Cardiff Bay
E-mail: info@techniquest.org
Website: www.techniquest.org
Telephone: 029 20 475 475
Opening times: During Welsh school terms: 9.30am to 4.30pm Tuesday to Friday; 10am to 5pm Saturday and Sunday; Closed Mondays. During Welsh school holidays: 10am to 5pm daily.
Admission: £7 (adults), £5 (children aged 4 - 16). Planetarium show: £1.30 per person. Concessions are available.