Wales Millennium Centre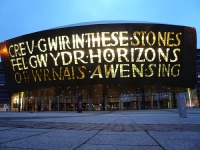 Wales Millennium Centre © TFDuesing
Nicknamed 'The Armadillo', this performing arts centre located in the Cardiff Bay area hosts performances such as operas, ballet and dance recitals, stand-up comedy and musicals. Known as one of the world's iconic performing arts venues, it features a world-class stage and also offers free foyer performances, tours and exhibitions for visitors to get an overall vision of the best of the arts world in Wales. The centre stages all the most popular and famous shows performed in London and all over the world, with classic favourites like Cats, West Side Story, Wicked and Priscilla Queen of the Desert frequently performed, alongside the best in contemporary Welsh, British and international entertainment. Guided tours of the centre are available where guests can check out the dressing rooms, marvel at the sheer size of the stage, and find out what lies beneath the mystical inscription. There is also a wonderful restaurant, a coffee shop, an ice-cream parlour and some theatre bars to enjoy. The theatre is wonderfully accessible to wheelchairs. Even if you are not lucky enough to be seeing a show, the Wales Millennium Centre is worth a visit to enjoy the architecture, exhibitions and free performances.
Address: Bute Place, Cardiff
E-mail: info@wmc.org.uk
Website: www.wmc.org.uk
Telephone: (0)29 2063 6400
Admission: Guided tours: £5.50 per person, with discounts for big groups.