Knott's Berry Farm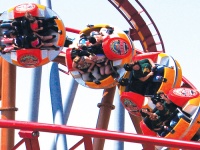 When Walter Knott began selling berries, berry plants and pies from a roadside stand beside State Route 39 in the 1920s he could never have known what his stand would eventually become. As the highway developed over time, so did his stand, becoming a roadside eatery with entertainment and eventually turning into America's first theme park, Knott's Berry Farm. The park features a multitude of fun for visitors of all ages and boasts nine world-class roller coasters, a plethora of thrill rides, family rides, children's rides, water rides, a Ghost Town, Fiesta Village (portraying Spanish California), Indian Trails, Wild Water Wilderness and the Sky Cabin Tower where fabulous views can be enjoyed by those brave enough to climb to the top. Each October the park transforms into a spooky Halloween-themed 'haunted theme park' called Knott's Scary Farm!
Address: 8039 Beach Boulevard, Buena Park, CA
E-mail: info@knotts.com
Website: www.knotts.com
Telephone: (714) 220 5200
Opening times: Opening times vary according to season. Check the park's website for current information.
Admission: Full day regular: $57.99; Full day Junior: $28.99 (age 3 and up and under 48 inches). Discounted tickets are available on the website.