Chimelong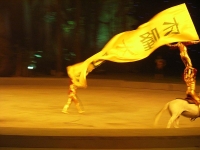 The Chimelong Group offers a variety of attractions for visitors including a circus, a waterpark and a theme park. Chimelong Paradise Amusement Park is one of China's largest theme parks and it is recognised internationally as a quality park (one of its rollercoasters is featured in the Guiness Book of Records!). The park has over 70 rides and is guaranteed to delight the thrill seeker and kids of all ages. The water world section boasts the largest water stunt show in the world and is a famously fun place to spend a sunny day. The Chimelong International Circus is the world's largest permanent circus and the theatre can hold nearly 7,000 people. Despite the vast numbers it can accommodate, it is an endlessly popular show and it is recommended that you book your tickets in advance, especially if you are going over the weekend. You can do so online. The Chimelong International Circus includes award winning acts from all over the world and its set, lighting, and costume design is fantastic. The Chimelong park and circus top the list for many families when it comes to things to do in Guangzhou.
Address: Panyu
Website: www.chimelong.com
Telephone: Chime-Long Waterpark (0)20 8478 0333; Chime-Long Paradise (0)20 3993 2888.
Opening times: Amusement Park open daily 10am - 7pm; Circus performances every night (except public holidays) at 7.30pm.
Admission: RMB 160 for adults; RMB 90 for children.