Louvre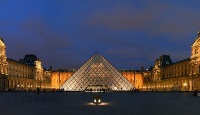 Louvre © Benh Lieu Song
One of the world's great art museums, this vast edifice houses an extraordinary collection of paintings, sculptures and antiquities from all over the world. The permanent collections are divided into Egyptian, Greek, Roman and Asian antiquities, painting, drawings, sculptures and objects d'art.
The Louvre was opened to the public in 1793, soon after the Revolution, to display the spectacular treasures looted from the royal palaces. The best-known attractions in the Louvre are Leonardo da Vinci's enigmatic Mona Lisa, which is protected by bullet-proof glass within its own room; and the ancient Venus de Milo. While the Venus de Milo is one of the highlights of a visit to the Louvre, the Mona Lisa can be a disappointment because people usually imagine it is much bigger than it is - and it is usually surrounded by a crowd. With more than 35,000 works on display, don't even attempt to see it all in one day. The building itself is a work of art and the ceilings, floors and staircases will enthral visitors.
Address: 75001, Paris Reception area is under the giant glass pyramid.
Website: www.louvre.fr
Telephone: (0)1 40 20 53 17
Transport: Metro Palais Royal or Musée du Louvre; bus 21, 27, 39, 48, 68, 69, 72, 81 or 95
Opening times: Monday, Thursday, Saturday and Sunday 9am to 6pm. Wednesday and Friday 9am to 9:45pm. Closed Tuesdays. Opening hours for temporary exhibitions vary. The museum is closed 25 December, 1 January and 1 May.
Admission: €15 for full-day pass to permanent exhibitions. Free admission the first Sunday of every month (not including the Hall Napoleon). Concessions are available and children under 18 are free.