Azem Palace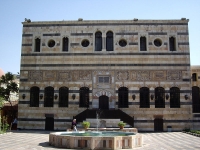 Azem Palace © krebsmaus07
Visitors to Damascus can escape the hustle and bustle of the city by retreating into the tranquil grounds of the 18th century Azem Palace. The modest exterior of this building holds a treasure of marble flooring, Oriental carpets and mother-of-pearl furniture, and is also home to a garden with lovely flowers and fountains to enjoy.
Address: Just south of the Umayyad mosque.
Opening times: Daily 9am-4pm.