Musée Rodin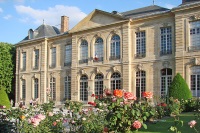 Rodin Museum © Jean-Pierre Dalbera
The Rodin Museum is situated near the Musée d'Orsay and is housed in what was formerly the Hôtel Biron, the beautiful hotel where Auguste Rodin (1840-1917) once lived and worked. Inside are many of Rodin's great marble sculptures including The Kiss, while outside, in the garden, are famous bronzes including The Thinker. The museum also includes many works by Camille Claudel (Rodin's pupil and mistress) and paintings by Van Gogh, Renoir, Manet and Rodin himself. The museum has a gift shop, with reproductions of some of the most famous works.
Address: 77 Rue de Varenne
Website: www.musee-rodin.fr
Telephone: (01) 4418 6110
Transport: Metro Varenne, Invalides or Saint-François-Xavier; RER to Invalides station; bus 69, 82, 87 or 92.
Opening times: Tuesday to Sunday 10am to 5:45pm. Closed on Monday.
Admission: Tickets cost €10 (adult) and €7 (reduced).