Anchorage Market & Festival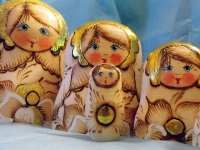 Downtown Anchorage hosts the fantastic Anchorage Market & Festival each summer, a great attraction for visitors. The market offers an array of locally-made goods including clothing, paintings, handmade jewellery and babushka dolls (Russian nesting dolls), as well as a great selection of food from all over the world. There are also entertaining music and dance performances to enjoy, and a special Kids' Market where children sell their hand-made items to raise money for charities and other organisations.
Address: 3rd Avenue, between C and E Streets
Website: www.anchoragemarkets.com/main.html
Opening times: Saturdays and Sundays in summer, 10am-6pm.
Admission: Free