Lal Bagh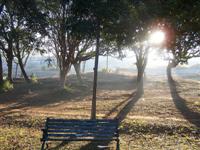 Lal Bagh gardens © Symphoney Symphoney
This splendid botanical garden, laid out by Hyder Ali and his son Tipu Sultan as a private royal garden in 1760, contains more than 1,000 species of rare flora in its enormous grounds. Lal Bagh is an internationally renowned centre for the scientific study and conservation of plants, and also a centre of botanical artwork. The name Lal Bagh means 'red garden', in tribute to its celebrated red roses. The centrepiece of Lal Bagh is the Glass House, which hosts an annual flower show and is modelled after London's Crystal Palace. Apart from the many old and imposing trees which delight visitors, the gardens also house a deer park, an aquarium, a lake and one of the city's four Kempe Gowda Towers.
The gardens are large and very beautiful with a great variety of scenery, many well-maintained paths to explore, and lots of shady nooks and lawns for picnics and relaxation. There are four entrance gates to the botanical garden and it is very popular with locals and visitors alike. None of the features are really stand-alone attractions but the gardens are a refreshing green lung in a crowded city, and a lovely place to take a morning stroll or jog and enjoy the peace.
Address: Mari Gowda Rd, Shanti Nagar, 2.5 miles (4km) south of the city centre.