Tupiza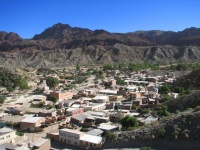 Tupiza © Pattr�n
This little mining town in the Potosi department may not be an attraction in itself, but it serves as a popular base for tours to nearby San Vicente, the major draw card of this region.
San Vicente has a bit of 'Wild West' history to it as two of the world's most famous outlaws, Butch Cassidy and the Sundance Kid, are thought to have died here.The duo fled the United States in 1901 to escape pursuit from the Pinkerton Detective Agency (which later became the FBI). Lured by Bolivia's silver wealth, they headed for South America; the outlaws are rumoured to have been gunned down by the Bolivian army in San Vicente over a century ago, just days after robbing a Bolivian mine.
Organised tours from Tupiza lead tourists along the 'death trail' of Butch and Sundance, giving visitors the unique opportunity to follow the outlaws' last days all the way to their supposed final resting place, where the billboard reads, 'Welcome to San Vicente: Here lie the remains of Butch Cassidy and the Sundance Kid'. Although many attempts to exhume the unmarked graves have been made over the years, no remains with DNA matching the outlaws' living relatives has been discovered.