Musée National Picasso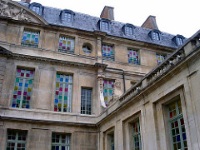 Picasso Museum © Stefano Brivio
The Picasso Museum is situated in a 17th century mansion in the heart of Paris. The collection was started in 1973, after the French government accepted Picasso's own collection in lieu of death duties, and was added to after his widow's death in 1990. All the phases of work from the Paris-based artist are represented here including his paintings, drawings, ceramics, sculptures and even poetry. Memorable works include the self-portrait Paolo as Harlequin and Nude in an Armchair. Most of Picasso's great paintings, however, are owned by and housed in foreign museums or are in the hands of private collectors. It is an unusual museum - mainly because of the unusual artist - and a must for Picasso enthusiasts and anybody who appreciates art. The mansion which houses the museum is gorgeous and creates just the right atmosphere for the diverse collection.
Address: Hôtel Salé, 5 Rue de Thorigny
Website: www.musee-picasso.fr
Telephone: (0)1 85 56 00 36
Transport: Métro Chemin Vert, St-Paul or Saint-Sébastien Froissart; bus 29, 96, 69, 75
Opening times: Tuesday to Friday 11:30am - 6pm; Saturday and Sunday 9:30am - 6pm.
Admission: Tickets cost €12.50 (adults), €11 (reduced).