Yungas Road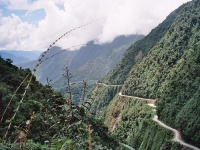 Yungus Road © Toxane
Not an attraction for the faint of heart, the dangerous Yungas Road, which has been dubbed the 'El Camino de la Muerte' (Road of Death), stretches between La Paz and Coroico in Bolivia and is estimated to claim the lives of approximately 200 to 300 travellers each year. Built during the 1930s Chaco War by Paraguayan prisoners, the road is situated high in the Yungas region of Bolivia and has extreme drops of up to 2,000 feet (609m).
The Yungas Road has become a popular tourist destination, drawing some 25,000 thrill seekers each year, particularly mountain bikers who love the adrenalin of the continuous downhill riding along 40 miles (64km) of treacherous road. The beautiful location of the road also adds to its allure, but it remains a serious danger, and trucks have serious problems passing each other. Crosses dotted along the road mark the spots where cars have plunged off the edge of the steep cliff.
Drivers on Yungas Road must obey a strict set of rules, as rain and fog often reduce visibility and there are no guard rails. Contrary to normal Bolivian driving, drivers keep to the left, and uphill vehicles always have the right of way. Yungas Road has been upgraded in the last decade with many new safety measures, but the original route, now called North Yungas Road, is still in use by tourists.