Musée des Beaux-Arts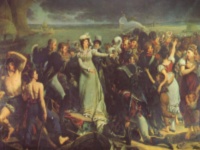 The Musée des Beaux-Arts was established in 1801 and is one of the largest galleries outside of the capital city of Paris. Featuring the works of artists from 15th to the 20th centuries, visitors can view the works of Perugino, Titian, Rubens, Veronese and Delacroix. The museum is best known for its outstanding collection of French and Dutch paintings. Although paintings are the core of the collection there are also valuable drawings and sculptures on show. Apart from the impressive permanent collections the museum also regularly organises special, temporary exhibitions and runs a rich cultural program of concerts and lectures.
Unfortunately, in 2012 the Musee des Beaux-Arts in Bordeaux has been partly closed as it undergoes extensive interior renovation. Only one room is currently open to the public. In early 2013 the museum will be fully accessible again, and much improved.
Address: 20 cours d'Albret, Jardin du Palais-Rohan
E-mail: musbxa@mairie-bordeaux.fr
Website: www.culture.gouv.fr/culture/bordeaux
Telephone: 05 5610 2056
Opening times: Wednesday to Monday 11am to 6pm. Closed on Tuesday.
Admission: Admission to permanent exhibitions is free; admission to special exhibitions is €5 and €2.50 reduced rate for concessions.