Chiang Mai Zoo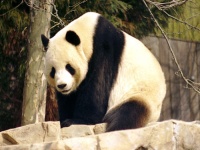 Boasting two giant pandas from China, Chuang Chuang and Lin Hui, Chiang Mai Zoo has earned itself quite a reputation with travellers as one of the top attractions in the region. The perfect destination for a day trip with the kids, the Chiang Mai Zoo also features exhibits such as a walk through aviary, Gibbon Island, an aquarium, a Cape Fur seal exhibit and even a special Children's Zoo. With two waterfalls, plenty of space to run around and a fabulous variety of exotic residents, a trip to the zoo is a must for all animal lovers and a great way to spend the day. Seal shows and other animal shows are conducted several times a day.
Address: 100 Heaykeaw Road, Tambol Suthep, Ampher Muang
E-mail: cmzooinfocenter@yahoo.com
Website: www.chiangmaizoo.com
Telephone: 0 5322 1179
Opening times: Open daily 8am–5pm. Seal shows: Monday to Friday 10:30am and 2pm; Saturday and Sunday 10:30am, 1:30pm and 3pm. Animal shows: Monday to Friday 11:30am and 3pm; Saturday and Sunday 11:30am, 2:30pm and 3:30pm.
Admission: THB 100 (adult); THB 50 (children).