Museum of Insects and Natural Wonders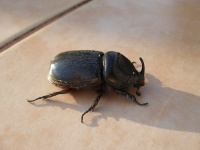 Little boys will love this wonderland of interesting creepy crawlies. Founded in 2002 by Manop Rattanarithikul (nicknamed 'The Mosquito Man') and his wife, Manop, who have a keen interest in insects and have been studying them for most of his life. Manop guides curious visitors through his vast and rare collection of insects and invertebrates that comprises 422 species of insects Thailand. From the tiniest little gnat to gigantic beetles, there are enough bugs here to make your skin crawl!
Address: Srimankalajarn Road Soi 13
E-mail: insectmuseum@hotmail.com
Website: insectmuseumthailand.multiply.com
Telephone: 053 21 1891
Opening times: Open daily 9am–5pm.
Admission: THB 200