Buckingham Fountain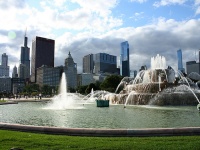 Located alongside Millennium Park and the Art Institute of Chicago in Grant Park, often referred to as the city's front yard, Buckingham Fountain is one of the city's most popular attractions and was the official starting point of US Route 66. Donated to the city by Kate Buckingham in memory of her brother on 26 August 1927, Clarence Buckingham, the fountain represents Lake Michigan and each sea horse symbolises a state bordering the lake. Water shows run every hour on the hour and last for 20 minutes. The last show of the night is at 10pm.
Address: Grant Park, Columbus Drive and Congress Parkway
Opening times: The fountain runs 8am11pm every day from mid-April to mid-October.