Omaha Children's Museum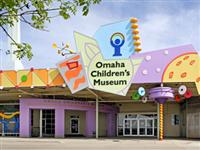 This fun-filled and award-winning interactive museum is designed as a learning and exploration space for young people. The various exhibits and activities are exciting and engaging, with the Imagination Playground and Sandy's Splish-Splash Garden proving especially popular. The Charlie Campbell Science and Technology Center features the Inventor's Workshop, the amazing whirligig station and live science presentations like Whiz Bang Super Science and The Amazing Bubble Show. At the Creative Arts Center children can release their inner artist and create their own masterpieces in whatever medium takes their fancy. The Omaha Children's Museum really does guarantee a great day out for kids and adults alike.
Address: 500 South 20th Street
E-mail: info@ocm.org
Website: www.ocm.org
Telephone: (402) 342 6164
Opening times: Tuesday to Friday 10am-4pm. Saturday 10am-5pm. Sunday 1pm-5pm.
Admission: $8, free for kids under 2.