Omaha Children's Museum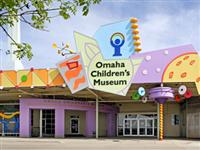 Omaha Childrens Museum © Ckahler
This fun-filled and award-winning interactive museum is designed to educate and engage kids of all ages. The various exhibits and activities include the ever popular Imagination Playground and Sandy's Splish-Splash Garden. The Charlie Campbell Science and Technology Center features the Inventor's Workshop, the amazing whirligig station, and live science presentations like Whiz Bang Super Science and The Amazing Bubble Show. At the Creative Arts Center children can release their inner artist and create their own masterpieces in whatever medium takes their fancy. Although the exact diversions on offer may change from time to time, the Omaha Children's Museum guarantees a great day out for kids and adults alike.
Address: 500 South 20th Street
E-mail: info@ocm.org
Website: www.ocm.org
Telephone: (402) 342 6164
Opening times: Tuesday to Friday 10am-4pm, Saturday 9am-5pm, Sunday 11am-5pm, closed Monday.
Admission: General Admission $12, other concessions available.