Verona Arena (Arena di Verona)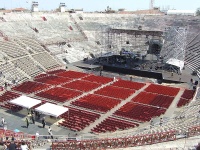 This enormous Ancient Roman theatre dates back 2,000 years, is the third-largest surviving theatre in the world, and is Italy's largest opera theatre. The exterior may be crumbling, but it only adds to the character and authenticity of the place. The very fact that this theatre is still fully functional after 2,000 years and has withstood a devastating earthquake makes it an attraction not to be missed while on holiday in Verona. In recent times, the Verona Arena has played host to popular music artists such as The Who, Kiss, Pearl Jam, Muse, Elton John and Tina Turner. Seating up to 15,000 people, the best time to visit the Arena is during the lyrical season, in the summer, when operas take place inside this ancient theatre on balmy summer nights. For details on what is showing and ticket bookings check the official website listed below.
You can visit the Verona Arena as a tourist attraction without seeing a show and for a small admission cost explore the ancient structure. There is very little information available at the site unfortunately but there are some wonderful views from the top levels of the theatre and it is a thrill to be in such an old structure. Catching an opera or concert is first prize, but strolling around when it is empty is still exciting and worthwhile.
Address: Via Roma 7/d, 37121
Website: www.arena.it