Kourion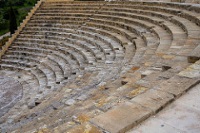 Kourion © Sergey Galyonkin
Believed to have been founded by the Argives, the ancient city of Kourion is one of the most beautifully-positioned ancient sites in Cyprus. It has passed through different phases, including the Hellenistic, Christian, and Roman periods, the agora (market place), Christian Basilica, and large public bath bearing testament to this city's impressive list of inhabitants. The restored Greco-Roman theatre hosts open air performances and is one of the venues for the International Festival of Ancient Greek Drama. Attractions around the complex include the House of the Gladiators, the Roman baths, the House of Achilles, and the Temple of Apollo.
Address: Located nine miles (14 km) west of Limassol
Website: www.visitcyprus.com/index.php/en/discovercyprus/rural/sites-monuments/item/2402-sites-monuments
Opening times: September 16 to April 15, daily from 8.30am to 5pm. April 16 to September 15, daily from 8.30am to 7.30pm.
Admission: €4.50