Kourion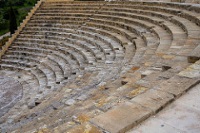 Kourion © Sergey Galyonkin
One of the most beautifully positioned ancient sites in Cyprus, the ancient city of Kourion is located on the southern shores of Cyprus just outside of Limassol and is believed to have been founded by the Argives. The city has passed through different phases from Hellenistic, Roman, and Christian periods and the agora (market place), Christian Basilica and large public bath bear testament to this city's impressive list of inhabitants.
The most impressive feature of Kourion is the restored Greco-Roman theatre that looks out over the dazzling Mediterranean, which hosts open air musical and theatrical performances and is one of the venues for the International Festival of Ancient Greek Drama. Check out the House of the Gladiators, the Roman baths, the House of Achilles and the Temple of Apollo while visiting Kourion.
This extensive site, with its beautiful seaside location, deserves a few hours of exploration. Bring a water bottle and a hat or sunscreen beacause it can get swelteringly hot and there is not much shelter. Also, do a little research before you go to fully appreciate what you are experiencing because there is not as much information at the site as might be desired.
Address: Located nine miles (14 km) west of Limassol
Website: www.visitcyprus.com/index.php/en/discovercyprus/rural/sites-monuments/item/2402-sites-monuments