Vieux Bordeaux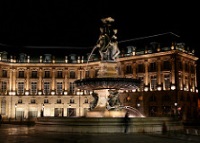 Place de la Bourse © Veronique Debord-Lazaro
Vieux Bordeaux (old town) centres on the Quartier St-Pierre, which is surrounded by narrow streets, and lined with old churches and grand mansions adorned by wrought-iron balconies and arcading. There has been a lot of restoration over the last few years, but some streets remain a bit seedy - in a way, this ramshackle look adds to the atmosphere.
One of the most opulent displays of Bordeaux's former glory is the Grand Theatre. It was built between 1773 and 1780 on the site of a Roman temple and is faced with an enormous colonnaded portico topped by 12 Muses and Graces. Visitors can view the impressive interior by attending one of the operas or ballets.
Nearby is the Esplanade des Quinconces, which was laid out between 1818 and 1828 and covers nearly 12 hectares (30 acres), making it the largest square of its kind in Europe. A smaller but more beautiful square is the earlier Place de la Bourse. Its centrepiece is a fountain of the Three Graces and is bordered by quays opening onto the river and flanked by the Custom House and the Stock Exchange. Crossing the river is the impressive Pont de Pierre, which was built during Napoleon's Spanish campaigns, and has 17 arches in honour of his victories. The views of the river and quays from here are memorable, particularly when floodlit at night.
Important churches include the delightful Basilique St-Michel, across from which is the Fleche St-Michel, which has the tallest stone tower in France; it was built in 1472 and is 374 feet (114m) high. During July and August (afternoons only) visitors can climb the 228 steps for wonderful views over the river. To the west is the 13th-century Cathédrale St-André, the most impressive and ostentatious church in Bordeaux (look out for the wonderful sculptures in the doors).
The city's museums are gathered around the cathedral, the best being the Musée des Beaux-Arts, which has a fine collection of European art including works by Reynolds, Titian, Rubens, Matisse and Marquet, a resident of the city. The old town is fairly compact and is best explored on foot; two-hour walking tours can be arranged through the local tourist office. Boat tours can also be arranged.
Address: Located between Cours de l'Intendance and rue Peyronnet
Website: www.bordeaux-tourism.co.uk/Discover-Bordeaux/Bordeaux-and-surroundings/Districts-and-boroughs/Vieux-Bordeaux-Old-town