San Francisco MOMA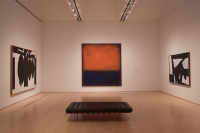 San Francisco Museum of Modern Art © Naotake Murayama
The San Francisco Museum of Modern Art (SFMOMA) is one of the country's premier modern art centres, featuring important works of Diego Rivera, Picasso, Jackson Pollock, Clyfford Still, Henry Matisse, Paul Klee, Jeff Koons and iconic photography from Ansel Adams. With the recent donation of the 1,100-piece Fisher Collection, SFMOMA now ranks alongside the Museum of Modern Art in New York and the Tate Modern in London as essential pilgrimage sites for lovers of 20th century art. The museum café and art shop are destinations in their own right, while the SFMOMA's iconic building, constructed in 1995, is a work of art in itself. Grab a free audio tour headset on the way in - the excellent commentary will greatly enhance your appreciation of the works.
The SFMOMA building has opened a new entrance and expanded as of May 2016, so visitors can now enter on Third Street or the new entrance on Howard Street.
Address: 151 Third Street (between Mission and Howard)
Website: www.sfmoma.org
Telephone: (415) 357-4000
Opening times: Monday to Tuesday 11am-5:45pm, Thursday 11am-8:45pm, Friday-Sunday 11am-5:45pm. Closed Wednesday. Please note that the San Francisco MOMA is closed until May 14 2016.
Admission: Adults $18, students $9. Children under 12 are free. Half price admission Thursday evenings from 6pm.