Bordeaux Wine Country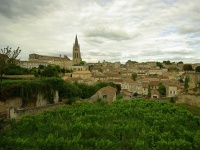 The area surrounding Bordeaux produces over 70 million gallons of wine each year, including some of the world's best red wine. Many vineyards are small family-run businesses without staff to cater for tourists, but the larger, more famous wineries organise tastings and tours of the cellars and vineyards. Château Mouton-Rothschild is located just north of Pauillac. It is still run by the Rothschilds and attracts thousands of visitors each year, who come as much for the impressive collection of art and the picturesque estate as for the wine. Château Lafite-Rothschild is nearby and was purchased by the Rothschilds in 1868. The vinothèque contains many vintage bottles, several dating from 1797. Château Margaux is an imposing 19th century château south of Pauillac; the estate produces three wines from its 650 acres. To see the vat rooms and wine cellars, make an appointment by letter or phone. These are just some examples of famous wineries in the region; visitors could easily spend several wine-drenched days exploring this beautiful area.
Telephone: Château Mouton-Rothschild (05) 56 73 2129; Château Lafite-Rothschild (01) 53 89 7800; Château Margaux (01) 44 434 320.