Tsitsernakaberd (Genocide Museum and Memorial)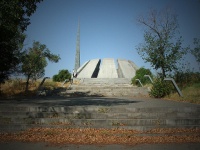 Overlooking the city of Yerevan, Tsitsernakaberd is a memorial honouring the memory of the victims of the 1915 Armenian Genocide that took place in the Ottoman Empire, carried out by the Turkish government. It is estimated that between 1 million and 1.5 million Armenians were killed in the genocide. The monument is made up of two sections: the 140-foot (44m) stele symbolizes the national rebirth of Armenians, while the circular construction of 12 slabs represents the 12 lost provinces in present day Turkey. In the centre of the circle, at around five feet down (1.5 meters) is an eternal flame. Every year on 24 April hundreds of thousands of people gather at the monument and lay flowers around the eternal flame. The attached museum and archival area houses several large exhibitions, administrative, engineering and technical spaces in three indoor halls and one outdoor section.
Tsitsernakaberd is a sobering reminder of national tragedy for the Armenian people, and visitors should be respectful of the sombre environment when visiting by refraining from loud disruptions and horseplay.
Address: Memorial Complex of Tsitsernakaberd, Yerevan
Website: www.genocide-museum.am