The Frick Collection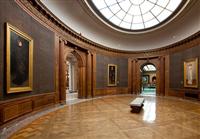 The Frick is quite possibly New York's most underrated art gallery, a collection of exceptional paintings featuring important works from Vermeer, Manet, Rembrandt, Whistler, Goya and Van Dyk. A highlight of the collection is the renowned pair of Holbein paintings of Thomas More and Thomas Cromwell, and the group of small bronze sculptures, rated the finest in the world. This was the New York residence of Henry Clay Frick who transformed a fortune made in the coal business into this sublime building, facing onto Central Park. The interior courtyard is a tranquil retreat from the busy world outside.
Address: E 70th Street at 5th Ave
E-mail: info@frick.org
Website: www.frick.org
Telephone: (212) 288-0700
Opening times: Tuesday to Saturday 10am-6pm, Sunday 11am-5pm.
Admission: $18 adults, concessions available. Children under 10 are not admitted.