The Frick Collection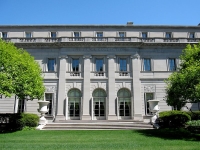 The Frick Collection, NYC © Gryffindor
The Frick is quite possibly New York's most underrated art gallery, a collection of exceptional paintings featuring important works by Vermeer, Manet, Rembrandt, Whistler, Goya and Van Dyk. A highlight is the renowned pair of Holbein paintings of Thomas More and Thomas Cromwell, and a group of small bronze sculptures rated as some of the finest in the world. This was the New York residence of Henry Clay Frick, who transformed a fortune made in the coal business into this sublime building facing onto Central Park. The interior courtyard is a tranquil retreat from the busy world outside.
Address: E 70th Street at 5th Ave
Website: www.frick.org
Opening times: Tuesday to Saturday 10am - 6pm, Sundays 11am - 5pm.
Admission: $22 adults, concessions available. Children under 10 are not admitted. Admission price includes audio guide. Free on first Friday of the month.