Top of the Rock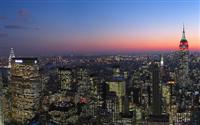 Best views of New York City? The Rockefeller Center's eight level viewing platform and the pinnacle of the Empire State building duke it out for top honours in this contest. The winner might be the Rock because it alone offers great views of the iconic Empire State building among its 360 degree vistas of the city below! There are both indoor and outdoor viewing areas, so it's suitable to visit in all weather. The best and most popular time to visit is half an hour before sunset when one can experience both the day and night time views. Book ahead online and skip the queue for your slot.
Address: 30 Rockefeller Plaza
Website: www.topoftherocknyc.com
Telephone: 877.NYC.ROCK (877.692.7625)
Admission: $22 adults, $15 children. Concessions available.