Aki Ra's Landmine Museum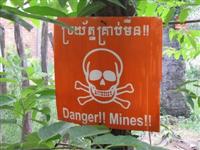 Cambodia Landmine Museum ©
The Aki Ra museum, often simply called the Cambodian Landmine Museum, provides a jarring counterpoint to the ancient Khmer glories on display at Angkor Wat by showcasing the more recent horrors of Cambodia's political and social upheavals. This museum, founded by Aki Ra, a former Khmer Rouge child soldier, provides a clear and compelling account of this troubled time, and the appalling legacy of landmines and unexploded ordinance that are still a blight on the lives of Cambodian people today. Despite ongoing efforts to find and defuse these sleeping weapons, it is estimated that less than half have been cleared. Aki Ra himself deactivated over 50,000 of them, many on his own initiative. The museum contains hundreds of these landmines, and many other weapons, and provides a useful service by teaching visitors and locals how to recognise these devices and what to do should they encounter them. The museum exists to tell Aki Ra's facinating story, and to gain exposure for the Cambodian struggle with landmines, but it is also home to a number of children adopted by Aki Ra, who are all victims either of landmines, disease or simply poverty.
Address: Located four miles (6km) south of Banteay Srey Temple, within the Angkor Wat Archaeological Park
Website: www.cambodialandminemuseum.org
Telephone: (0)15 674 163
Transport: The museum is a 30 minute tuk-tuk ride from downtown Siem Reap.
Opening times: The museum is open every day from 7.30am to 5.30pm.
Admission: Donations appreciated.