Angkor National Museum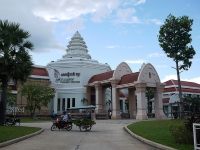 Angkor National Museum © e_chaya
This museum is an archaeological museum dedicated to the preservation and presentation of the Angkorian articles. It convenient and useful stop-over en route to the temples of Angkor, allowing visitors insight into the centuries of history, culture, rich symbolism, and myth associated with the temple complex which often remains hidden when viewing the Angkor temples without a guide. The museum's main attractions are its archaeological treasures, including the lion and demon heads missing from the temple statues, Khmer artefacts predating the Angkor period, and a fascinating collection of ancient Khmer and Sanskrit inscriptions on stone tablets. There is a striking gallery dedicated solely to images of Buddha and a gallery featuring the ancient costume of the Angkor period, including jewellery and headdresses.
The museum uses multimedia displays and various artefacts to evoke the golden age of Khmer culture. Displays are colourful and vibrant and the information is informative and accessible. The building itself is fairly recent, with a modern, lavishly air-conditioned, and enormous 20,000 square metres of floor space and some dramatic fountains. There is also a museum gift shop for souvenirs. Allow at least an hour for a visit. In addition to the entrance fee, and the optional extra cost for taking in a camera, visitors can pay for an educational headset.
Address: No.968, Vithei Charles de Gaulle, Phoum Salakanseng, Khom Svaydangum, Siem Reap
Website: www.angkornationalmuseum.com
Telephone: +855 63 966 601
Opening times: Daily 8.30am-6.30pm
Admission: $12 per person.