Assisi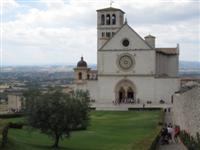 The picturesque hill town of Assisi, to the east of Perugia, is famous as the birthplace of St Francis, a 12th-century monk who founded the Franciscan order, devoted to achieving an 'abundance of the divine' through the practices of ascetism, poverty and chastity. Tourists and pilgrims flock to the bustling town for inspiration and worship, and a multitude of annual conferences, festivals and other religious activities.
Approaching the town of Assisi is a visual spectacle of shimmering white marble buildings perched halfway up Mount Subasio. The town is set against the backdrop of the towering 14th-century hill fortress of the Rocca Maggiore, a landmark with which to orientate oneself from inside the city's medieval ramparts while on holiday. The most loved and visited church in Italy is the 13th-century Basilica di San Francesco, containing frescoes by Giotto commemorating the life of St Francis. Other notable works include paintings by Pietro Lorenzetti and Simone Martini's frescoes based on the life of St Martin. St Francis' tomb rests below the lower church, also worth visiting when on holiday on Assisi. Almost all of the four million tourists who travel to Assisi each year come primarily to see the Basilica di San Francesco, but other popular sights include the 13th-century Basilica di Santa Chiara, the 12th-century Romanesque Duomo di San Rufino and the Eremo delle Carceri monastery, situated in the woodland outside the walls of Assisi.
Assisi is a beautiful city with winding streets, Roman ruins and magnificent churches, and it feels like it has changed little since medieval times. Assisi is a destination where you should aim to get lost in the charming, winding streets, because the greatest gems are the small medieval treasures and glorious views to be found all over the small city. It is considered a highly spiritual place and attracts many pilgrims - it is common to see nuns in the streets and there is a peaceful, ancient atmosphere.
Transport: By train: catch the local train from Florence to Terontola, or catch the Foligno train from Rome. Both of these trains run to Assisi (Santa Maria degli Angeli). From the station you will need to take a bus to the small town of Assisi, which is about three miles (2km) away. If you are travelling by car, take the SS75 exit off motorway A1; from there, the road is well signposted. The town itself can be explored on foot.