San Gimignano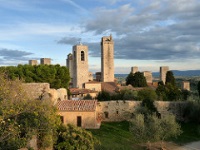 San Gimignano © Lorena Torres Angelini
San Gimignano is a popular village on the tourist trail which attracts many with its charm and history. The distinctive skyline of the charming medieval village of San Gimignano is redolent of a modern cityscape with its many towers, hence its nickname the 'medieval Manhattan'.
Only 14 of the original 72 towers remain, however, which is unsurprising as their dual role as status symbols and defensive structures saw them caught in the middle of the many feuds and battles that eventually caused the town's downfall. Nevertheless, these 14 towers are among the best-preserved in Italy, and are the envy of Florence and Bologna whose towers have long since been destroyed. San Gimignano enjoyed an ideal position on the main pilgrimage route connecting Northern Europe and Rome and prospered during the Middle Ages. In modern times, its fortune stems from tourism and wine production.
The ideal starting-point for a visit to San Gimignano is the Piazza del Duomo, which is the centre of the town and framed by historical buildings. Nearby is the Collegiata, a church dating from the 11th-century and famed for its frescoes, which include The Creation by Bartolo di Fredi. For shopping and souvenirs, head to Via San Giovanni.