Ernest Hemingway Museum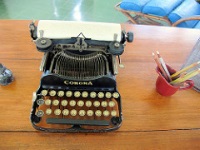 Hemingway's typewriter at Finca Vigia © Bruce Tuten
Ernest Hemingway may be an American by birth, but Cubans have adopted this rambunctious writer/adventurer as their own - especially in Havana, where you'll find memorials to his apartments, regular haunts, and even favourite drinks. Hemingway was a keen fisherman (and a keen drinker) and the bars and harbour in Cuba are full of references to him and his escapades.
Finca Vigia, his home just outside Havana, has been restored and now functions as a museum to the famous author. The residence is kept as it was when he lived there, and visitors can see his typewriter and library of over 8,000 books. It was in this house that Hemingway wrote two of his most famous books, For Whom the Bell Tolls and The Old Man and the Sea (for which he was awarded the Nobel Prize for Literature).
Walking around the house feels very personal and informal which makes it a special experience for fans of Hemingway. The museum has been known to close often for renovations so try to ensure that it is open for visitors before setting off. Although, a walk around the house and area may prove sufficiently exciting for many.
Address: Finca Vigía, Havana