Roskilde Cathedral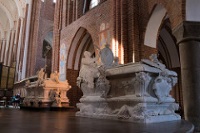 Roskilde Cathedral © Susanne Nilsson
The Roskilde Cathedral was the first Gothic cathedral built out of brick during the 12th and 13th centuries. Since the 15th century it has been the burial site for Danish monarchs, and is home to the Roskilde Cathedral Boys' Choir. A UNESCO World Heritage Site, the cathedral's twin spires dominate the Roskilde skyline, and the ornately gilded interior gives visitors a sense of the royal history of Denmark. Visitors are asked to be respectful of the fact that the cathedral is an active church which means that it will sometimes be closed to tourists during ceremonies and services and that visitors must at all times be considerate of worshippers in the cathedral. There is a Cathedral Museum in the Great Hall of the Chapel of the Magi which contains illustrations and artefacts detailing the history of the cathedral from the early Middle Ages to the present day. Guided tours are available.
Website: www.roskildedomkirke.dk
Opening times: April to September: Monday to Saturday 9am to 5pm, Sundays and holidays 12:30pm to 5pm. October to March: Tuesday to Saturday 10am to 4pm, Sundays and holidays 12.30pm to 4pm, closed Mondays. The cathedral also closes for events and services.
Admission: DKK 60 for Adults; free for children (under 17).