Viking Ship Museum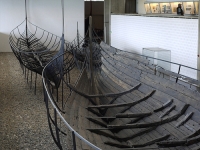 Roskilde's Viking Ship Museum is home to five Viking ships dating back to the 11th century. The ships were deliberately sunk in the channel to prevent an attack on the city around the year 1070, and were excavated in 1962. They range from cargo ships to war raiders, and are on display at the museum overlooking Roskilde Fjord, along with weapons and other artefacts. Visitors can also watch shipwrights at work and see examples of traditional Nordic wooden boats. The museum has a gift shop and restaurant. There are lots of reconstructed Viking ships and boats in the museum harbour and you can take a ride in some of them with a guide. According to tourist votes, the museum is generally the top rated attraction in Roskilde. There are lots of fun and educational activities for children which makes it a great attraction for the whole family.
Website: www.vikingeskibsmuseet.dk
Telephone: 4631 6565
Transport: Bus routes 216 and 607 run to and from Roskilde station. Walking from the station takes about 20 minutes.
Opening times: 31 June to 31 August 10am to 5pm; 1 September to 22 June 10am to 4pm.
Admission: May to September: Adults DKK 100 and children free. October to April: Adults DKK 70 and children free.