Bahir Dar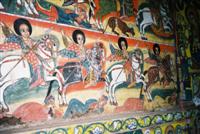 Lake Tana church mural © David Fair
Bahir Dar is one of the most popular tourist destinations in Ethiopia and is known for its wide, palm-lined avenues and many attractions. The charming town of Bahir Dar sits at the southern edge of Lake Tana, which is the source of the Blue Nile.
The town is the main base for visiting the spectacular Tisissat Falls and exploring the lake's 37 islands with their ancient churches and monasteries. Unfortunately, access to many of these churches is denied to women, but the boat trip around the lake and exteriors is still worth the trip, and there are a handful of monasteries that will welcome women. The lake is enormous and it will probably take half a day just to visit two or three of the monasteries but the scenery is very beautiful and you may be lucky enough to see wildlife like hippo as you explore. Also look out for the local fishermen in their traditional papyrus canoes.
The most beautiful of the monasteries on Lake Tana are Debre Kebran Gabriel, which dates from the 14th century, and Ura Kidane Mehret which has exceptional frescoes. The monasteries each charge their own entrance fee. The Tisissat Falls, often known as the Blue Nile Falls, are still impressive but the dam has seriously reduced the amount of water coming over the falls which is sad. Bahir Dar also has an enormous market where visitors can trawl for local crafts and fresh produce.