Gondar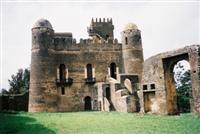 Gondar churches © David Fair
Gondar is a city like no other, scattered with ancient castles, churches and endowed with magnificent mountain scenery and a pleasantly cool climate. Situated 460 miles (748km) north of Addis, this is the next clockwise step after Bahar Dar on the official Historic Route through Ethiopia. It is often called 'the Camelot of Africa' because of its many castles and medieval atmosphere.
Gondar was founded by Emperor Fasilides around the year 1635, and grew as an agricultural and market town. The city was the capital of Ethiopia for hundreds of years, which accounts for the abundant imperial architecture, most densely concentrated in the Royal Enclosure which contains five castles. The oldest, and most architecturally interesting, is the Castle of Fasilades which has Axumite, Portuguese and Indian elements. Near the edge of Gondar is the Church of Debre Birhan Selassie which dates from 1682 and contains the country's most celebrated ceiling murals.
Gondar is also a natural base for treks into the Simien Mountains and many companies tout their services. Choose carefully and get the opinion of recently returned trekkers before committing to a particular guide. Another good excursion out of the city is the small but beautiful town of Gorgora on the northern shore of Lake Tana, about 70 km from Gondar, where visitors will find some interesting ancient artefacts.