Ile St Honorat & Ile St Marguerite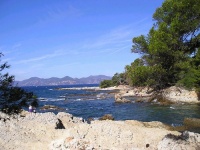 The two islands of Lerins, Ile St Marguerite and Ile St Honorat, lie a 20-minute boat ride from Cannes. Ile St Honorat is a tiny forested island, the smallest and most southern of the Iles de Lerins. It has been the site of a monastery since the 5th century and today the Cistercian monks are the only inhabitants of the island. Much of the monastery is surprisingly modern, with the exception of the ruins of the 11th-century monastery on the sea's edge. The monks organise tours of the island and sell their produce to tourists, including homemade wine, honey and lavender oil. The monastery also welcomes visitors for week-long retreats. On the neighbouring Ile St Marguerite is the fortress where the 'man in the iron mask' was imprisoned. The famous old prison also has a Museum of the Sea to explore.
Mostly, however, people head out to the islands to picnic and enjoy the natural splendour on offer. There are plenty of secluded, rocky little coves, forested areas and gardens and it is easy to find a beautiful spot to spend the day. It is the perfect opportunity to get out of the fashionable bustle of Cannes and find a little peace and privacy. The boat trips over are also enjoyable and give wonderful views of Cannes. There is a restaurant on Ile St Marguerite.