Fontevraud Abbey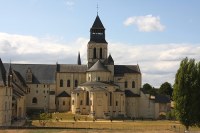 Built in the 12th century, Fontevraud Abbey is thought to be the site of the graves of King Henry II of England, his wife Eleanor of Aquitaine, and their son King Richard I; however, it is not known exactly where their bodies are interred. The effigies are still on display in the abbey, and are a popular sight for tourists. The abbey has housed a monastery, nunnery, prison, and church over the centuries, and various sections have been rebuilt in Gothic, Classical and Romanesque styles. Although the abbey building is massive and impressive and the old kitchens are worth a visit, there is not much to see apart from the famous effigies and recently tourists have reported that the site feels lifeless and has been poorly set out. If you are a lover of history and genuinely want to visit the Plantagenet tombs then you will enjoy this attraction but, from a sightseeing perspective, the abbey pales in comparison to some other places in the Loire Valley.
E-mail: abbaye@abbayedefontevraud.com
Website: www.abbayedefontevraud.com
Telephone: 02 41 51 73 52
Opening times: 27 January to 6 April: 10am to 5.30pm, closed Mondays. 7 April to 30 June: 9.30am to 6.30pm. 1 July to 31 August: 9.30am to 7.30pm. 1 September to 8 November: 9.30am to 6.30pm. 9 November to 31 December: 10am to 5.30pm, closed Monday.
Admission: €9 (adult), €6 (child), concessions available.