Château d'Ussé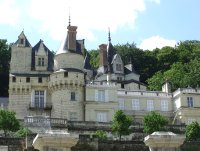 The magnificent Château d'Ussé overlooks the Indre River, and was built by Charles VII in the mid-15th century. The fairytale castle passed through the hands of many nobles, and was said to have inspired Charles Perrault to write the story of Sleeping Beauty. It subsequently inspired Walt Disney in the design of his iconic castles in the Disney logo and at several theme parks. The castle is still a private residence and only parts of the house are open to the public but it is well worth a visit as you can see a fair amount of the house, including the king's chamber, kitchens, entrance hall and dungeons, and you can also wander the gardens, stables, chapel and cellars. The interiors are richly decorated with the privately collected furniture, tapestries and art of the noble families that have lived in the chateau over the centuries. Mannequins have been used to exhibit the rich array of costumes in the castle's collection. They are also used to recreate scenes from the Sleeping Beauty story. The Guard Room contains an interesting collection of oriental weaponry, the Renaissance chapel, built in 1521, is beautiful, and the grounds are gorgeously landscaped. There is a ghost story attached to the dungeon tower; apparently the guards used to hear the rustle of a lady's gown as she searched for her lover.
Website: www.chateaudusse.fr
Telephone: 02 47 95 54 05
Transport: 2.5 hours from Paris or 45 minutes west of Tours by car.
Opening times: Open daily mid-February to mid-November. 12 February to 31 March: 10am to 6pm. 1 April to 31 August: 10am to 7pm. 1 September to 4 November 10am to 6pm.
Admission: €14 (adults); €4 (children aged 8 to 16).