Panajachel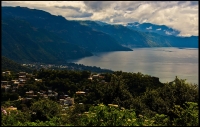 Panajachel © Guillen Perez
The holiday resort town of Panajachel in the highlands has a large population of long-term hippie expats and a distinctly Western character. The relaxed ambience accompanies breath-taking views of three volcanoes that sit near the lake. There are many hotels, small restaurants and lively nightspots, with a mosaic of sensory delights awaiting visitors.
Visit the photo museum in the Casa Cakchiquel, a historic hotel that has housed legends such as Ernesto 'Che' Guevara and Ingrid Bergman. The Church of St Francis, built in the 16th century, has survived several earthquakes, and still provides sanctuary to the locals.
Panajachel is a good base for exploring the more traditional villages surrounding the lake and offers good shopping and swimming around the town. Food lovers will enjoy sampling the diverse local cuisine in one of the numerous restaurants or cafés.