Deutsches Museum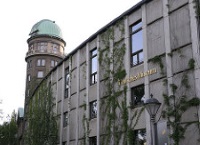 Deutsches Museum © Wolfgang Manousek
The Deutches Museum is a great stop for families exploring Munich. It is the world's largest technology and science museum, with roughly 28,000 artefacts on display in exhibits dedicated to themes like Energy, Transport, Natural Science, Communications, Musical Instruments and New Technologies. The museum is located on a small island in the Isar River, with additional facilities outside of Munich and in Bonn.
There is a section especially dedicated to children which is called Kid's Kingdom and features 1,000 fun, interactive activities including things like a giant guitar to be played, enormous building blocks, and a fire department. It is aimed at kids aged three to eight and all children must be accompanied by an adult. For the grown-ups there is a wealth of interesting information and exhibitions on topics like astronomy, chemistry, pharmaceutics, electricity, computers, microelectronics, hydraulic engineering and astronautics. The museum is designed to be accessible and entertaining and even those who have little understanding of technology and science should be enthralled.
Address: Museumsinsel 1, Munich
Website: www.deutsches-museum.de
Telephone: (0)89 2179 333
Transport: U-Bahn - Line 1 +2, Fraunhoferstrasse; Bus - Line 132, Boschbrücke
Opening times: 9am to 5pm daily.
Admission: Adults €12; schoolchildren/students €4