Allied Museum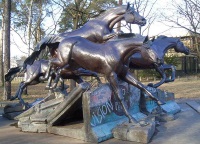 Allied Museum © Mutter Erde
Occupying an abandoned movie theatre, the Allied Museum is located on the former US Army Europe's Berlin Brigade headquarters, and houses exhibits and displays detailing the history of the Allied forces in Germany in World War II and up until 1994. Three-quarters of the museum's collection was entrusted to Germany by the Allied forces when they departed after nearly 50 years of occupation. The museum's collections include all kinds of military memorabilia: airplanes and motor vehicles, weapons, uniforms, documents and files, photos and other artefacts, including the original Checkpoint Charlie shed.
The permanent collection has three main sections. The end of the war and the famous Berlin Airlift are covered in the exhibition on the years 1945 to 1950. An outdoor exhibition featuring large artefacts like planes and sections of the Berlin wall illustrates the history of West Berlin as an island in the Soviet zone. A permanent exhibition on the years between 1951 and 1994 covers Germany's experience of the Cold War. The museum also organises periodic events like lectures and film screenings, as well as special, temporary exhibitions - check the website for specific dates.
Address: Clayallee 135 - Outpost
Website: www.alliiertenmuseum.de
Telephone: (030) 81 81 99 0
Transport: S-Bahn: S 1 to Zehlendorf, then take Bus No. 115 (direction U-Güntzelstr.) or No. X83 to AlliiertenMuseum. U-Bahn: U 3 to Oskar-Helene-Heim. Bus: No. 115 or No. X83 to AlliiertenMuseum.
Opening times: Daily 10am to 6pm; closed Mondays.
Admission: Free