Reichstag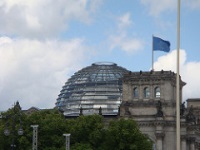 Reichstag © Karen Mardahl
The Reichstag is one of Berlin's most famous buildings. The seat of Germany's parliament since 1894, the building has had a volatile history, being damaged in World War II, wrapped in a sheet by conceptual artist Christo in 1995, and massively reconstructed in the late 1990s. The reconstruction saw the building gutted, leaving only the facade, and the addition of a glass-domed atrium that provides panoramic views of Berlin. The views from the dome are stunning and it is well worth the visit.
Note that although entrance is free the rooftop terrace and dome of the Reichstag are closed to visitors without pre-booking. There is an Arts and Architecture tour or a general tour of the Reichstag (if Parliament is not in session) available and you must contact the Reichstag directly and request a visit. Although the office is helpful there are thousands of people making this request so make sure you plan in advance (six months as a guideline) to avoid disappointment. There are free audio tapes available in a number of languages. There is also a rooftop restaurant which is very popular but for this too you will need a reservation.
Address: Platz der Republik 1
Website: www.bundestag.de/kulturundgeschichte/architektur/reichstag
Telephone: 030 22 73 21 52
Opening times: Daily 8am to midnight.
Admission: Free