Hohenzollern Castle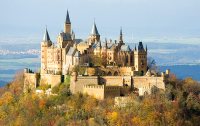 The magnificent castle at Hohenzollern is perched on a hilltop 31 miles (50km) outside of Stuttgart. The current structure was built in the 15th century, although mention of a castle on the site dates back to 1267. The second Hohenzollern Castle, which stands proud today, was constructed in 1454 to be bigger and more heavily fortified than before. During the Thirty Years War, it was used as a fortress, changing hands between several families. Since the maintenance of the building was neglected, it dilapidated and turned into ruins at the beginning of the 19th century only to be renovated and rejuvenated from 1850 onwards. The castle is incredible, with a fairytale neo-Gothic facade set against spectacular panoramic views of the surrounding countryside of the Black Forest. It is widely acknowledged as a triumph of 19th century military architecture and its many towers are one of its most striking features. The castle hosts a number of attractions and events, including an open-air cinema, museum, and seasonal Christmas market.
Address: Verwaltung Burg Hohenzollern
E-mail: info@burg-hohenzollern.com
Website: www.burg-hohenzollern.com/startpage.html
Telephone: +49 (0) 7471-920 787
Opening times: 1 November to 15 March 10am-4:30pm, 16 March to 31 October 10am-5:30pm. Closed partially or entirely for some public holidays. See website for details.
Admission: Castle complex without interior rooms: €5 (adults), €4 (6 - 17 year olds). Castle complex including interiors: €10 (adults), €8 (reduced), €5 (6 - 17 year olds). Concessions available.