German Clock Museum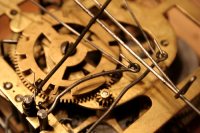 German Clock Museum © Mike
Although you may find yourself inundated by cuckoo clocks everywhere you look in the Black Forest, the German Clock Museum's large collection of timepieces is the most comprehensive of its kind in the world, and offers over 8,000 examples of clocks which have been collected over the last 150 years. Cuckoo clocks have been made in the Black Forest region since the early 18th century, and much of their development occurred there. It is remarkable how much you can learn about the region's history and culture by browsing through the clocks, which have come to define the Black Forest in the global imagination. The museum doesn't only exhibit local clocks though, it has many pieces from overseas. One of the highlights is an electrical clock made by Alexander Bain in London in about 1845.
Mapping the advances in the craft of clock-making is very interesting and while some of the pieces are very beautiful others are remarkable because they are so original; for instance, there is an ingenious alarm clock designed for a deaf couple in 1942 which uses a flashing light instead of a bell. Tours are conducted by appointment, and there are English guidebooks available.
Address: Robert-Gerwig-Platz 1 D-78120 Furtwangen, Baden-Wurttemberg
Opening times: 9am - 6pm daily.
Admission: €8 for adults, €7 for Schoolchildren, Students, Black Forest Guest Card holders (Schwarzwald-Gästekarte)