St Bartholomew Cathedral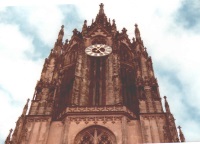 St Bartholomew Cathedral © Michael Konig
St Bartholomews Cathedral, or Dom Sankt Bartholomäus, dominates the Frankfurt skyline with its imposing 311-foot (95m) spire, contrasting sharply with the modern skyscrapers in the downtown area. The cathedral was built in the 14th and 15th centuries, and has seen the crowning of kings and emperors. St Bartholomews has been rebuilt several times, once in 1867 after a fire, and again in the 1950s following damage suffered in World War II. The architecture is traditional Gothic. The cathedral boasts some artistic treasures and the carvings are particularly striking. You can climb the winding spiral stairs to reach the bells in the tower for some spectacular views. There is a small museum and shop inside. You can get information booklets at the door which are quite informative and tell you a bit about the church's history and the artefacts on display. As the cathedral is still an active place of worship it is partially closed to tourists at times for services.
Address: Domplatz 14
Website: www.dom-frankfurt.de
Telephone: 0 69 29 70 32 0
Transport: U4 from Central-Station, Stop Römer
Opening times: Open Tuesday to Friday 10am to 5pm, and Saturday to Sunday 11am to 5pm. Opening times vary depending on church services.
Admission: Free