Planten un Blomen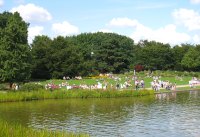 In the middle of Hamburg is an oasis of green lawns and trees, with colourful flowers and fountains providing a lovely backdrop to relax in. You can stroll around the Japanese garden and enjoy the tropical flower collections and teahouse; it is easy to find a pretty spot to have a picnic or read a book as the gardens are extensive and full of little nooks. Children will enjoy the range of attractions including playgrounds, pony rides, miniature golf, and a roller rink and ice skating rink. There are also concerts and theatrical performances on a regular basis - check the website for details on what will be happening during your visit. In the summer months there are lovely evening concerts with light shows at the fountains which are wonderful to attend. The park is also beautiful in autumn and spring though, when the colours are spectacular. As the park is right in the heart of Hamburg it is very easy to access as an area to allow the kids to blow off some steam and for the whole family to take a break from the city and traditional sightseeing. If you're looking for an open area to do some jogging or walking the Planten un Blomen is ideal.
Website: plantenunblomen.hamburg.de
Telephone: Park Information 040 42823-2150; Events 040 42854-4723
Opening times: May to September 7am to 11pm; October to March 7am to 8pm; April 7am to 10pm.
Admission: Free