St Michaelis Church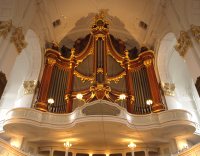 St. Michaelis began as a humble church, which was extended in 1600. In 1647 construction began on the grand building that stands today as possibly Hamburg's most recognisable landmark. Like many important buildings in Germany, the church suffered major damage in World War II. Michaeliskirche offers tours of the 270 foot (82m) tower; the crypt, which contains the bodies of Johann Mattheson and Carl Philipp Emanuel Bach; and there is also an interesting presentation on the history of Hamburg including a film. The tower has a magnificent viewing platform which can be reached either by elevator or by climbing the 452 steps; the advantage of taking the steps is that you get to see the bells and the famous clock machinery on your way up, but it is quite a climb. As the church is still an active place of worship it is closed to visitors during services and events and at all times tourists are expected to show respect. There is a small chapel on the side that is almost always open for prayer and contemplation.
Address: Englische Planke 1a
E-mail: info@st-michaelis.de
Website: www.st-michaelis.de
Telephone: (040) 376 78-0
Opening times: November to April 10am to 6pm; May to October 9am to 8pm.
Admission: €4 (adults); €3 (children and teenagers aged 6 to 15); free for children under 6; concessions available.