Miniature Wonderland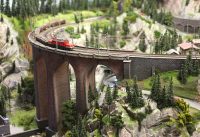 Train enthusiasts will love Miniature Wonderland in Hamburg but so will almost anyone else. With over 4,000 square metres of floorspace, there is much to see with tiny models of various regions, both local and international. The largest of its kind in the world and the most visited permanent exhibit in Northern Germany, there are 900 trains with 12,000 carriages; 300,000 lights, 200,000 trees and 200,000 human figures. Sections include Southern Germany and the Austrian Alps, Hamburg and the Coast, America, Scandinavia, and Switzerland. Construction has begun on an expansion that will add five new sections, including France, Italy and the UK, by 2014. There is so much detail in the model world that you can examine it for hours and never get bored - some of the scenarios are very amusing and the little people are portrayed doing all sorts of things. The place is very popular for people of all ages and it can get a bit crowded inside. The staff are very good about trying to amuse the people waiting in queues with free sweets and ice-cream but it is best to book your ticket in advance online to avoid waiting.
Address: Kehrwieder 4 Block D
E-mail: +49 (0)40 300 6 800
Website: www.miniatur-wunderland.com
Transport: U-Bahn line U3
Opening times: Open Monday, Wednesday and Thursday 9.30am to 6pm; Tuesday 9.30am to 9pm; Friday 9.30am to 7pm; Saturday 8am to 9pm; Sunday and public holidays 8.30am to 8pm.
Admission: �10 adults, �6 children under 16. Concessions available.