Santorini Wineries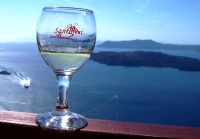 Santos Winery © Joye~
Santorini is a large wine-producing region, which was helped along by a volcanic explosion in 1650 BC. The vines on the island are very old, and are trained into a distinctive basket shape to protect them from the elements. Wine has been grown in the region since ancient times and has been renowned since as early as the Middle Ages, when the Venetians made it famous - the Italian influence is still detectable in the wine tradition of Santorini today. One of the grapes that the region is known for is the sweet Vin Santo (or vinsanto) which is dried in the sun before use. The blended rosé from white grapes likes Athiri, Aidini and Assyrtiko, and red grapes like Mandelaria, is also highly acclaimed.
There are a number of great wineries on the island. Antoniou is very popular, particularly for weddings, and Boutari is the largest vineyard in the region. Sigalas, which has spectacular views from their patio, is a lovely place to while away a day, and Volcan has a Wine Museum which will interest fanatics interested in the production process and history of the area.
Admission: Most wineries on the island are open for tours during the summer months.