Museum of Pre-Historic Thira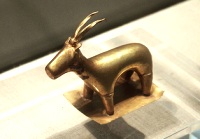 The Museum of Pre-Historic Thira has displays of many archaeological finds from the excavations at Akrotiri, including Neolithic pottery from as far back as 3300 BC. The exhibits attempt to show life in prehistoric times, with tools, metalworkings, pottery, furniture, and other artefacts on display. The exhibition is laid out in four parts: the history of research at Thira; the geology of Thira; the island's history from the Late Neolithic to the Late Cycladic I period (early 17th century BC); and the heyday of the city at Akrotiri (mature Late Cycladic 1 period, 17th century BC). Look out for the gold ibex figurine and the magnificent wall paintings, or frescoes, of Ladies and Papyri and of the Blue Monkeys. A visit to this small but interesting museum is a great complement to exploring the archaeological site of Akrotiri as it provides context and allows you to see the impressive artefacts discovered at the site. Often tour guides will combine the site and the museum when they show you around. The museum is well-organised and informative and offers a lot of good background information and it consistently rates well with tourists in reviews.
Address: 847 00 Fira, Santorini
E-mail: info@megarogyzi.gr
Website: www.santonet.gr/museums/prehistoric_museum.htm
Telephone: +30 22860 23217
Opening times: Tuesday to Sunday 8.30am to 3pm, closed Monday.
Admission: €3