Melissani and Drogarati Caves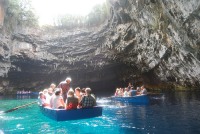 Cephalonia's caves are popular attractions, each offering a unique experience. In Melissani, visitors are taken in boats through a small channel into a brilliant turquoise subterranean lake. In Greek mythology caves have always been associated with the divine and many religious ceremonies were held in caves. It is therefore not surprising that several ancient artefacts have been found in the Melissani cave. Melissani is said to be the place where the nymph of the same name committed suicide because the god Pan would not reciprocate her love. The stalactites within the cave that look like dolphins are said to be her frozen messengers. It is a beautiful and mysterious place to visit.
Drogarati Cave is much larger and has tours 200 feet (60m) below the ground, with lights highlighting spectacular displays of limestone stalagmites and stalactites. The Drogarati Cave is thought to be about 150 million years old and was traditionally said to be the home of a dragon. Drogarati is known for its good acoustics, and has hosted many concerts from international artists including Maria Callas. The caves are usually both open between Easter and the end of October, although Drogarati may be open during the winter months as well. Both are very well known and easy to find.